After the harvest, Akoya pearls are qualified by local Fishery Associations
from the 1st to the 3rd grade.
Almost all pearls bought by Tokyo Pearl are the 1st grade,
evaluated as pearls with the highest quality in every value-making factor
such as luster, thickness of the pearl layers and lack of blemishes.
Our pearls are mainly from Shimonada, Ehime Prefecture and Tsushima,
Nagasaki Prefecture.
These areas are known for their high quality pearl productions,
Shimonada especially for 8-9mm pearls and Tsushima for 6-7mm pearls.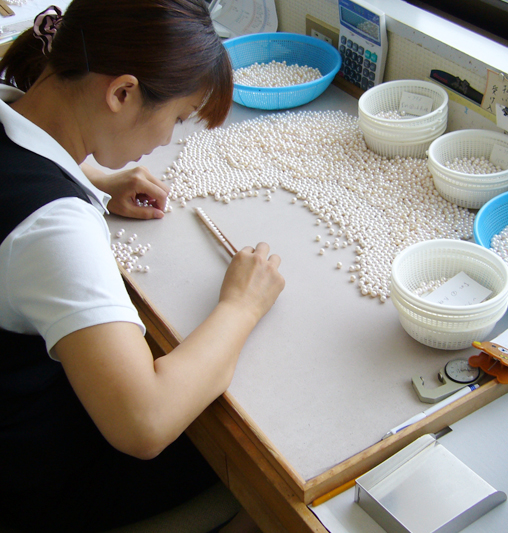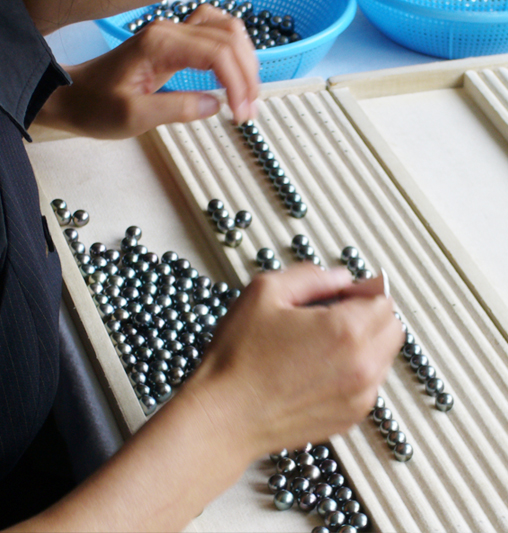 The pearl necklace has a unique evaluation factor, called "Uniformity."Uniformity refers to how every piece of pearl used in a single necklace has to have similar characteristics,such as color, luster, blemishes and size in comparison to the others in order to keep a perfect balance. Among all pearls that Tokyo Pearl buys during a year, only 60% can become necklaces.
Using up all pearls to make necklaces without compromising the Uniformity is,
even for the most skillful experts, impossible.Tokyo Pearl believes that the Uniformity is the most important factor of the pearl necklace quality,
and therefore we will never allow ourselves to compromise it.



There are two kinds of buying system in pearl business, the Tender and
the Private Deal. At the Tender, the same as any auction in the market,
only a company who bids the highest offer can buy the merchandises,
while the Private Deal is a system where the buyer and the producer decide
the prices through private negotiations. Not so many companies are allowed to make the Private Deal; only a few companies can do it in Japan. Thanks to a relationship based on trust with
the suppliers through a long-term faithful business,
Tokyo Pearl has the great advantage to be able to buy high quality pearls
on a priority basis.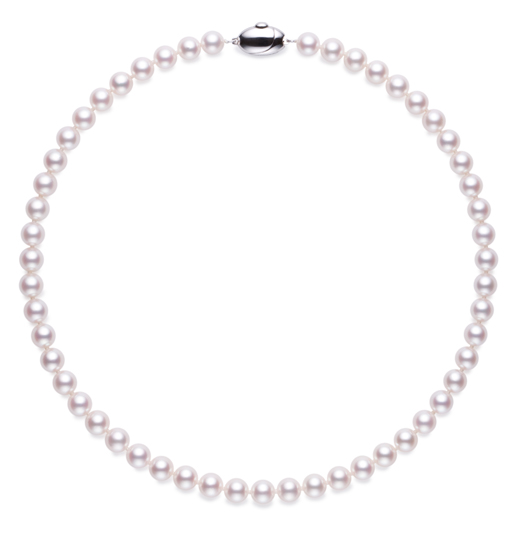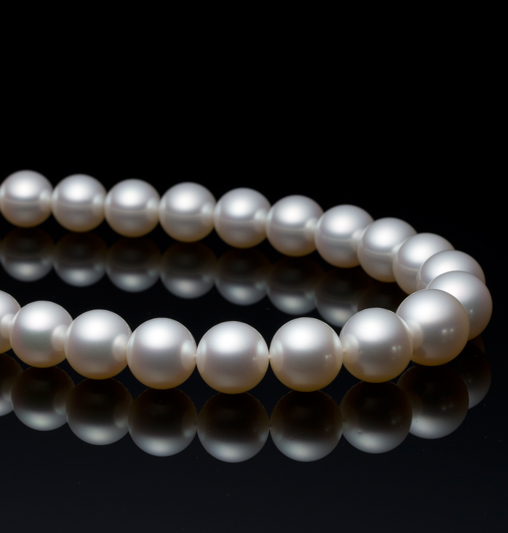 Tokyo Pearl has a traceability system to control the pearl inventories according to
their origins, and avoid the mixing of pearls from different origins during
the necklace production process.